Campaigns are not fully implemented into the game yet, but you can still upgrade your offence stat and launch attacks against the enemy. Defeating enemies does not yet offer any rewards.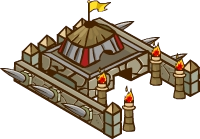 The chance of winning an attack is based on your fortress power vs the enemy's defence. Winning an attack allows you to launch another attack in three hours, but losing an attack takes 12 hours to replenish the troops needed.
You can improve your offensive stat by upgrading your Fortress buildings.
To calculate your total campaign offence stat, use Troop Number*Weapons*Armor
| Campaign level | Name | Defence rating |
| --- | --- | --- |
| 1 | Feeble Village | 500 |
| 2 | Little Town | 8,000 |
| 3 | Gub Huts | 40,500 |
| 4 | Bustle City | 128,000 |
| 5 | Hill Fort | 312,500 |
| 6 | Dungshacks | 648,000 |
| 7 | Blood Camp | 1,200,500 |
| 8 | The Rathole | 2,048,000 |
| 9 | Valley Garrison | 3,280,500 |
| 10 | Local Barracks | 5,000,000 |
| 11 | Plonk's Pigsty | 7,320,500 |
| 12 | Abletower | 10,368,000 |
| 13 | Basher's Bunk | 14,280,500 |
| 14 | Grok's Lookout | 19,208,000 |
| 15 | Rook | 25,312,500 |
| Campaign level | Name | Defence rating |
| --- | --- | --- |
| 16 | Rockfort | 32,768,000 |
| 17 | High-look | 41,760,500 |
| 18 | The Citadel | 52,488,000 |
| 19 | Keg Keep | 65,160,500 |
| 20 | Scourge's Spire | 80,000,000 |
| 21 | Le Chateau | 97,240,500 |
| 22 | Tarble's Turret | 117,120,000 |
| 23 | Eagle's Manor | 139,920,500 |
| 24 | Yorg Stronghold | 165,888,000 |
| 25 | Doom Hall | 195,312,500 |
| 26 | The Bastion | 228,488,000 |
| 27 | Triumph Castle | 265,720,500 |
| 28 | Beard Fortress | 307,328,000 |
| 29 | Waaagh!lands | 353,640,500 |
| 30 | Imperial Palace | 405,000,000 |
| Campaign level | Name | Defence rating |
| --- | --- | --- |
| 31 | Beard Fortress(?) | 461,760,500 |
| 32 | Waaagh!lands(?) | 524,288,000 |
| 33 | Imperial Palace(?) | 592,960,500 |
| 34 | Beard Fortress(?) | 668,168,000 |
| 35 | Waaagh!lands(?) | 750,312,500 |
| 36 | Imperial Palace(?) | 839,808,000 |
| 37 | Beard Fortress(?) | 937,080,500 |
| 38 | Waaagh!lands(?) | 1,042,568,000 |
| 39 | Imperial Palace(?) | 1,156,720,500 |
| 40 | Beard Fortress(?) | 1,280,000,000 |
| 41 | Waaagh!lands(?) | 1,412,880,500 |
| 42 | Imperial Palace(?) | 1,555,848,000 |
| 43 | Beard Fortress(?) | 1,709,400,500 |
| 44 | Waaagh!lands(?) | 1,874,048,000 |
| 45 | Imperial Palace(?) | 2,050,312,500 |